imacimus®
THE PORTABLE LABORATORY
imacimus® Multi ION electrodes is a series of water quality meters designed to offer highly accurate measures of pH and up to 7 ions simultaneously.
imacimus® allows quick and reliable sample analysis.
Based on the advanced analytical technology of Carbon Nanotubes, imacimus® simultaneously measures and displays 10 parameters (7 ions/nutrients/ pH /conductivity/ water hardness) in real time.
imacimus® an indispensable tool to manage overall level of ionic in precision agriculture, environmental science and water quality tests.
FIND OUT MORE OF MULTIPLE ION ANALYSER
imacimus® vs laboratories
imacimus® determines the major part of IONS or nutrients that are important in the monitoring of hydroponics growing, irrigation solutions, drainage, soil extracts, sap extracts, fertilizer composition, nutrient mixturer, river or lake pollution, waste water process, industrial reactions, food production, seawater ponds, fish farming…
Revolutionary environmental multiparameter device for water quality control, an indispensable meter in the precision agriculture, research & development and water monitoring
* Independent Laboratories
Applications of ion-selective electrodes
Portable Multi Ion Water Quality Meter
imacimus® line-up is composed of a complete equipment that performs a simultaneous multi-ion determination. The equipment comes with all necessary material to start analyzing in a few minutes.
imacimus® are supplied with a portable case to be easily carried and stored. All the ions are specific for each parameter: calcium, chloride, potassium, sodium, magnesium, nitrate and ammonium; plus pH. All ions are determined in a single shot. High reliability compared to lab reports.
imacimus® series are a multi-parameter tool available as a five-parameter and a ten-parameter.

Imacimus 10 includes individual sensors, but please choose the ones you need for Imacimus 5. Easy Replaceable Sensors are sold as spare parts. All the parameters listed are compatible for imacimus meters. All-solid-state selective electrodes based on Carbon Nanotube Technology. NT Sensors electrodes are made using our patented technology for the agriculture industry and are allowed to work in all positions (horizontal/inverse) No light or ORP sensivity.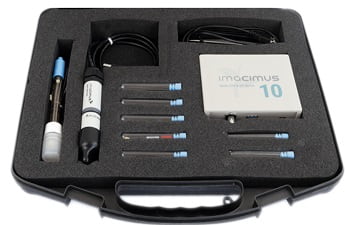 User guides, videotutorials and software
download
Main features
marketing@ntsensors.com
2022-04-11T15:12:16+02:00
No Reagents. No consumption of reagents per sample. Measure your samples directly without any previous treatment.
Usually from 1 to > 10.000mg/L. Usually sample dilutions are not required.
Intuitive and easy to use
The Windows software will able to analyse a lot of samples with its own description, time and date analysis. (.xls (Excel))
No external power supply required. Powered through a 5 V USB port. Connection to a Windows device is required.
NT Sensors, S.L. Imacimus

C/ Jaume I, nº 23 43764 El Catllar (Spain)
Phone Office: +34 977 653 925 | Cellphone/WhatsApp +34 691 119 294
Send your inquiry using by e-mail or send us a WhatsApp message.

www.ntsensors.com
[contact-form-7 id="213″ title="formulari angles"]